Our interdisciplinary background

The research teams at the Internal Medicine Clinic B (Cardiology) and the Institute for Hematology and Transfusion Medicine (Immunohematology) at the University of Greifswald have joined forces and have been working together for the past two years. They are using their varied scientific experience to find out about the significance of autoimmune reactions in patients with cardiovascular illness.
The Medical Faculty and the Mathematics and Science Faculty at Greifswald have also drawn together in an exemplary fashion over the last 10 years. This has led to extensive networking and numerous joint projects. Applying state-of-the-art scientific methodology to problems raised by pathological processes can be enormously valuable. This cooperation allows techniques from the forefront of physics research to be used now to tackle biomedical questions. Such techniques would otherwise require years of further development to make them sufficiently simple and user friendly, and would be accessible to medical researchers only much later, if at all.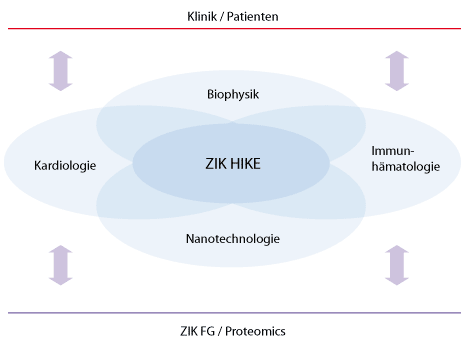 The HIKE initiative is building upon these structures. It draws its innovative strength from its interdisciplinary base, combining methods based in biophysics, and particularly nanotechnology, with methods from clinical cardiology and immunohematology. This combined approach is being used to seek a comprehensive explanation of the mechanisms involved in antibody-induced cardiovascular disease. It means that HIKE has brand new methods at its disposal, developed by specialists in biophysics, immunohematology and cardiology. The inclusion of the pharmacy and transfusion medicine departments also provides the infrastructure necessary for the analysis, production and testing of drugs.
The teams cooperating in the HIKE initiative provided recently an example of a successful application of nanotechnology in clinical research. Aggregates of heparin (an exogenous biologic drug) and PF4 (an endogenous protein on blood cells) were found in the blood of affected patients. Once these aggreates had been successfully found and isolated, it was possible to use Atomic Force Microscopy (AFM) - to describe the biophysical properties of the individual clusters.